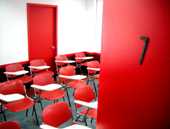 Taipei center of Alliance française in Taiwan is located at Institute of Continuing Studies of National Taiwan University (NTU)
Click here to access contact informations and office hours.
FRENCH CLASSES
We propose a wide French language course from beginners to B2 level, as well as complimentary cultural workshops.
Classes are organized through 5 yearly sessions of 2 months.
LANGUAGE STUDY VACATIONS
We offer the possibility to apply for Alliance française in Paris French classes, including accomodation services (optional).
This is a free service and there is no additional charge to the school and accomodation fees.
CERTIFICATIONS
Examinations for DELF / DALF, tests for TCF and DAEFLE can be taken onsite.
Further informations : please click here.
MEDIA LIBRARY
A media library specialized on France is open to the public from monday to sunday where you can find magazines, easy French books, films, music, comic books, novels : over 5 500 documents should match your needs…
Further informations : please click here.