Assess your level…
Please check here our examinations schedule and our fees and registration conditions
DEFINITION
TCF (Test de Connaissance du Français) and TCF-DAP (TCF pour la Demande d'Admission Préalable are assessment tests in French language.
They are intended for non-native French speakers that want to assess their level.
EXAMINATION DESCRIPTION
It is composed of one compulsory examination (including 3 parts) and two optional examinations.
COMPULSORY EXAMINATION
– Listening comprehension
30 questions
25 minutes
80 questions
1h30
– Use of language structures
20 questions
20 minutes
– Reading comprehension
30 questions
45 minutes
OPTIONAL EXAMINATION
– Spoken expression
3 questions
12 minutes
1h12
– Written expression
3 subjects
1 hour
CERTIFICATE OF RESULTS
Candidates get a Certificate of Results which grades them at one of the 6 levels (A1-C2) of the competency scale defined by the Council of Europe's Comon European Framework of Reference for Languages. This means that it is not possible to fail to the TCF since this is an assessment test.
However, some schools in France can request a minimum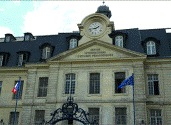 score in view of an admission to their establishment.
VALIDITY
TCF certificates are valid for 2 years following the tests.